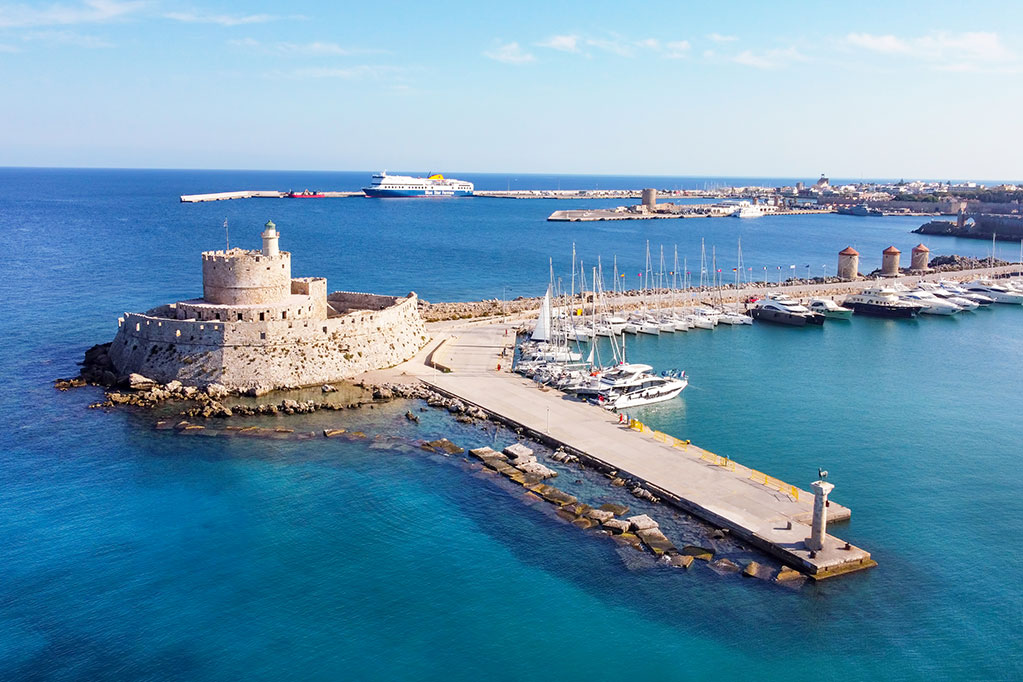 Rhodes Greece is so charming that you should even take a loan to visit it
April 7, 2023
Rhodes, a picturesque island in Greece, is known for its rich history, stunning architecture, and vibrant local culture. Exploring Rhodes Town can be challenging due to parking constraints and the bustling city center. However, the Municipality of Rhodes has come up with an ingenious solution: the Mini Bus service that offers free transfers from Acandia Free Parking to various spots in Rhodes Town.
In this article, we will discuss the many advantages of using this fantastic service and how it makes exploring Rhodes Town a breeze. Don't forget to check out the embedded video review to get a glimpse of what you can expect when using the Mini Bus service.
The Mini Bus service truly stands out from other public transportation options in Rhodes. By parking your vehicle at Acandia Free Parking and hopping on the bus, you can avoid the hassle of finding parking downtown. The service operates every ten minutes, ensuring you never have to wait long to start your journey. Plus, by using this eco-friendly option, you are reducing your carbon footprint and contributing to a greener environment.
The Mini Bus service has five strategic stops throughout Rhodes Town, each one offering a unique experience for tourists. Let's take a closer look at these stops and their significance:
Free MiniBus in Rhodes Stop 1: Acandia Free Parking 
This is where you start your journey. Park your vehicle at this spacious, free parking lot and board the Mini Bus to explore Rhodes Town without any stress.
Free MiniBus in Rhodes Stop 2: Kolona Port
If you choose this stop of the Mini Bus service, you have the choice to either visit the Medieval City of Rhodes or to take a leisurely stroll at the Kolona Port.
The Medieval City of Rhodes is full of stunning historical architecture and landmarks that are sure to mesmerize visitors. Some must-see attractions include the Palace of the Grand Masters, Suleiman Mosque, and Kastellorizo Street.
At Kolona Port, tourists can relax and take in the breathtaking views of the Aegean Sea while enjoying some delicious Greek cuisine at one of the many waterfront restaurants.
Stop 3: Mandraki Harbor
The picturesque Mandraki Harbor, once home to the Colossus of Rhodes, offers stunning views and a lively atmosphere. Visit the local market, enjoy fresh seafood at nearby restaurants, or take a leisurely stroll along the waterfront.
Stop 4: Municipality of Rhodes
If you choose the Mini Bus stop at the Municipality of Rhodes, you get to see and explore lots of cool things. Elli Beach is a great place to go swimming or relax on the sand. At the Rhodes Aquarium, you can see all kinds of fish and other sea creatures up close.
After a wonderful day of exploring the stunning attractions of Rhodes Town, you can take the Mini Bus service back to Acandia Free Parking. You will be driven through each of the four strategic stops in reverse order.
The Mini Bus service was a fantastic way to explore Rhodes Town hassle-free. The bus was spotlessly clean and tidy, fully airconditioned, and the driver was incredibly friendly and helpful. As this service is completely electric, it emits no emissions or noise pollution, making it an eco-friendly option for those who care about the environment.
Article Copied from https://cityofrhodes.com/review-hustle-free-parking-in-rhodes-town-with-free-transfer-from-acandia-free-parking/
In conclusion, the Mini Bus service provided by the Municipality of Rhodes is a game-changer for tourists looking to experience everything Rhodes Town has to offer. By offering free transfers from Acandia Parking, this service eliminates parking stress, reduces your carbon footprint, and allows for a more enjoyable exploration of the city's many attractions. So, on your next visit to Rhodes, don't hesitate to take advantage of this fantastic service and discover the charm of Rhodes Town with ease.